Every time we visit Flores / Tikal area, we end up staying in the town of Flores. Which is super adorable, colorful, and on Lake Peten Itza. However, it was time for a change. I've heard about El Remate, Guatemala which is also on the lake, but has a completely different layout. Instead of being a foot-accessible town (which some areas are) most of the hotels are hidden in the jungle along the lake and much more secluded than Flores. That's why I wanted to talk about the hotel Gringo Perdido Ecological Inn.
Hotel Gringo Perdido Ecological Inn
After a lot of searching, the eco-lodge Gringo Perdido kept popping up on my radar over and over again. The hotel was only three kilometers (1.5 miles) from El Remate Peten, Guatemala, and literally on the lake with its own private docks.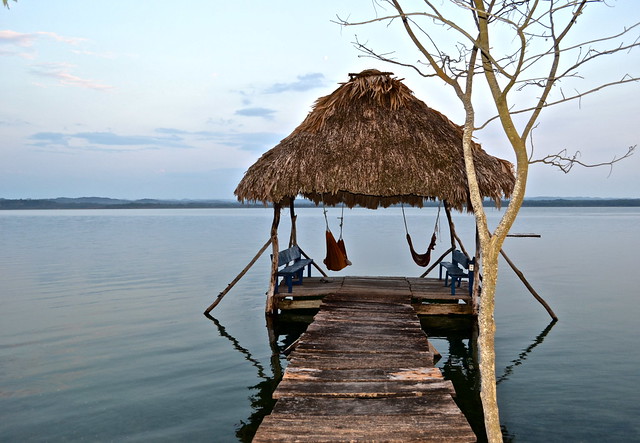 It looked great. But the selling point for me was that they had a new luxury addition, Piramide Paraiso Inn, recently added to their open-air cabins.
As much as I like to visit nature, jungles, and tropical forests, I really love to stay in luxury rooms.
Did I mention a private porch with a jacuzzi?
Enjoying El Remate, Guatemala and Hotel Gringo Perdido to the Fullest
Hotel Gringo Perdido turned out to be much more than just a place to lay down for the night. It turned out to be a full-on destination in itself. We ended up spending most of our time at the hotel.
Sunset and Nightfall on Peten Itza Lake
The hotel couldn't be placed any better. In the past few months, the lake has risen really high and most of the docks and piers have gone completely under. As we drove to our hotel we noticed that most of the hotels that had docks didn't bother to fix them, so the whole 'dock' fun was completely gone. Not Hotel Gringo Perdido – and I was soooo grateful for this – they fixed their docks so that you can sit on them and swim off of them. This made all the difference in the world for us since this was where we literally spent more than 50% of our time while staying at the hotel.
We arrived just in time for the sunset.
My oldest was dying to get in the crystal clear water.
Finally he broke down and jumped in right before dinner was served.
Meals Included in the Gringo Perdido Package – Delicious!
When you stay at the lodge you get two meals included. A four-course dinner and breakfast.
Dinner was simple. It's the simplicity that was the best part. I have two extremely picky eaters and after staying here I think I found the cure. No options.
The dinner for our stay was basic but delicious. It started with cream of tomato soup, coleslaw, beef with rice, and for dessert chocolate cake.
When hunger strikes, all of a sudden, the kids eat what is in front of them. And if they don't like it, they have no choices. I am truly considering this to be my new mode of cooking.
Breakfast was the same.
My kids are not fans of eggs, but since this was the only thing on the menu (with plantains and beans – but those are definite no-eaters) they ate them up completely.
And what was the reward for eating all their breakfast? Swim time with Papa.
Going from one dock to another and also boats.
Downtime and hammock time.
Bet You Didn't Know This About Gringo Perdido
In 1974 David, a man from the US, visited this remote region several times and fell in love with the place. Rumor has it he was a CIA agent who retired here.
He was the only foreigner in the region and the locals started calling him Gringo Perdido – the Lost Gringo.
He opened a small hotel and called it Gringo Perdido
Thirty years ago a Guatemalan family bought the property from him
Two years ago, after many many years of planning, they finally built and opened the luxury part of the hotel – Piramide Pariaso
Fun Facts about El Remate and Lake Peten Itza
El Remate is a small town on the Eastern side of Petén Itza.

It is the closest town to Tikal National Park.

It is also close to other archaeological sites like Yaxhá and Biotopo Cerro Cahuí.

It gained popularity after being used as the filming base of "Survivor Guatemala".
Lake Peten Itza is the third largest lake in the country.

The word Itza can be broken into "itz" which means wizard and á which is a Mayan reference to water.  Therefore the lake's name is "The Wizard of Water".
My Recommendations:
Dinner – this is usually set at a certain hour. However, you can request to have it at any time you want. But make sure you let the staff know, otherwise it will be served at the time they usually do it.
Internet – be prepared to be disconnected. The hotel doesn't have any internet. And the town of El Remate really loves its remoteness. There is only one internet shop in town and it is run on a mobile service which means it is not at all consistent or dependent.
It can get a bit of getting used to, but honestly, not having internet was truly liberating for us and we were able to have a blast without worrying who was emailing us or, even worse, facebooking!